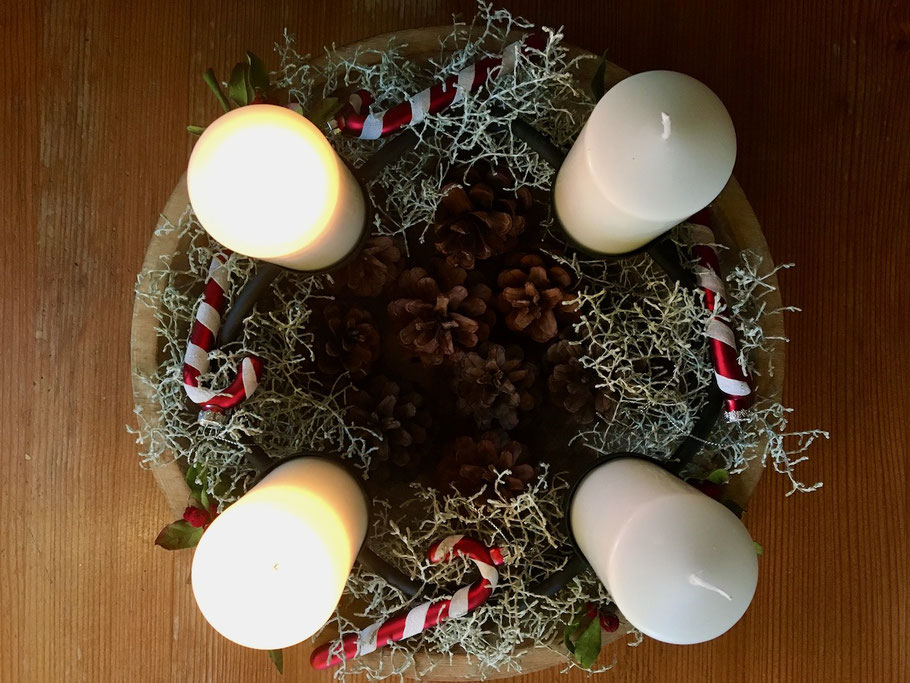 Um die Kraft der nachfolgenden Übung zu glauben, muss sie unbedingt einmal selber durchführen und es am eigenen Leib erfahren. Nur fünf Wiederholungen reichen aus, damit das gesamte Bewusstsein angehoben wird. Wenn du einen harten Tag vor dir hast, gibt dir diese Übung die dazu benötigte Kraft und balanciert deinen wichtigsten Computer: dein Gehirn. 
Wenn du nach einem anstrengenden Tag abschalten und auslüften möchtest, führe diese einfache Übung durch - sie funktioniert wie eine Müllabfuhr für dein Gehirn :-)
Meditation für absolut kraftvolle Energie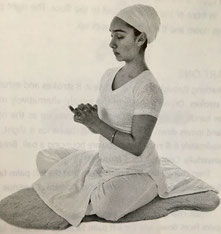 Am Boden im Schneidersitz sitzen, gerader Rücken, den Kopf so halten, als würde am obersten Scheitelpunkt ein Faden befestigt sein, der nach oben zieht, Kinn Richtung Brust. Wenn du nicht gut im Schneidersitz sitzen kannst, sitz auf einem festen Kissen - das entlastet die Hüfte.
Die Finger so verschränken, dass der rechte Daumen oberhalb ist und die beiden Ringfinger nach außen zeigen (das sind die Sonnenfinger). Die so verschränkten Hände gute zehn Zentimeter vor dem Zwerchfell halten, die Sonnenfinger zeigen in etwa in einem Winkel von 60 Grad nach außen/oben. Die Augen sind geschlossen.
So tief wie möglich, auch in den Bauch, einatmen und kraftvoll ONG singen. Das Mantra wird anhaltend und durchgehend gesungen, verstärkt durch die oben erwähnte Kopfhaltung - vergleichbar mit einer großen Muschel, in die man hineinbläst und dadurch einen Ton erzeugt. Es entsteht durch das langanhaltende Summen eine Vibration im gesamten Zentralnervensystem, ausgelöst durch das Vibrieren im Zentrum der Nase.
Diese Übung mindestens fünfmal wiederholen. Wer sich damit wohlfühlt, kann die Übung solange wiederholen, wie es ihm guttut.
Namaste
In order to believe in the power of the following practice you definitely need to perform it once and feel its results. Only five repetitions are enough to raise ones whole consciousness. After a tough day this practice brings back your power and balances your most important computer: your brain.
If you would like to calm down and refreshen after a demanding day, try this easy practice - it's like a waste collection for your brain :-)
Meditation for absolut powerful energy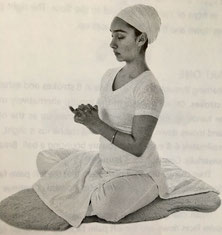 Sitting on the ground cross-legged, back straight, holding your head as if on a string pulled upwards, chin pulled towards the chest. If sitting on the ground makes you feel uncomfortable, place a firm cushion under your butt, which relieves your hip.
Interlock your fingers, right thumb is above the left thumb, both ring fingers point outwards (the ring fingers are the so called sun fingers). Hold your hands about ten centimeters in front of your diaphragm, the sun fingers point in an angle of about 60 degrees outwards/upwards. 
Eyes are closed.
Breathe into your lungs and your belly, too, as deep as possible and chant ONG powerfully. Chant the mantra long-running and continuously. The above mentioned head posture reinforces the sound and is comparable to a big shell, which produces a sound by being blown into it. Whilst the long-lasting chanting a vibration in the central nerves system is generated, initiated by the vibrations in the centre of the nose. 
Repeat at least five times. This practice can be repeated as often as needed. 
Namaste