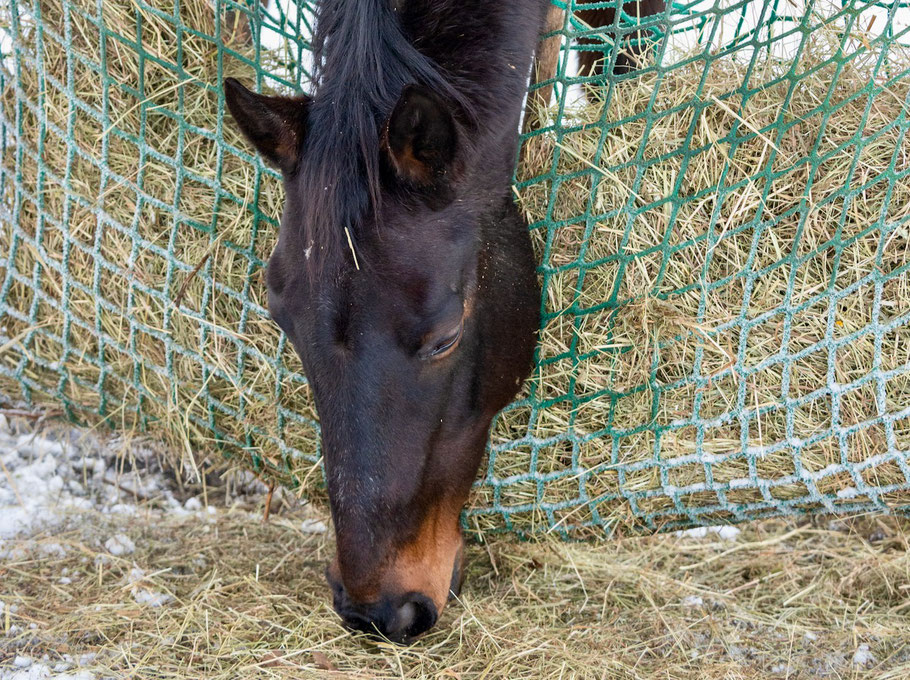 Unser geliebtes Pferd hustete bei Hitze und wir dachten, es läge am bodennahen Ozon. Oder an irgendwelchen Pflanzen auf der Weide. Dann kamen der Herbst und die kühlen Tage und es hustete noch immer. Vielleicht lag es an der Kälte. Oder an der Nässe. Oder an der Einstreu, die wir solange wechselten, bis wir glaubten, der Husten ließe nach. Als er wiederkam, untersuchten wir das Heu und wechselten den Heulieferanten. Duftendes Heu brachte auch keine Erleichterung, auch nicht im Heunetz. Der Offenstall ist gut durchlüftet, aber nicht zugig, und die Pferde finden zu jeder Zeit Platz im Stall und draußen im Freien ganz nach ihrem Belieben. Bei Regen stellte er sich gerne ins Trockene, sodass Erkältung auch ausgeschlossen werden konnte. Kurzfristige Erleichterung brachten Homöopathie, Kräutertherapie, Bachblüten - aber der Husten kam immer wieder, mal mehr, mal weniger. Und wir hatten keine Anhaltspunkte für den Auslöser. Als ich beinahe schon aufgegeben hatte, unternahm ich einen allerletzten Anlauf. Und ein Wunder geschah.
In zwei großen Terracottatöpfen wuchsen während des Sommers vier große Artemisia-Pflanzen, der Einjährige Beifuss. Nachdem ich für mich jeden Tag vier, fünf Blättchen abpflückte und kaute, kam mir der Gedanke, unserem Pferd auch ein paar Blättchen zweimal täglich unter das Futter zu rühren. Ich hegte große Hoffnungen, aber es geschah nichts. Er hustete gleich weiter. Mal mehr, mal weniger. 
Das tägliche Füttern der Artemisia-Blätter wurde zur Gewohnheit und wie bei jeder Gewohnheit stellte sich ein Automatismus ein, ohne bewusst weiter darüber nachzudenken. So fraß er den ganzen Sommer und Herbst lang täglich ein paar Blätter vom Einjährigen Beifuss. Bis ich vor knapp drei Wochen feststellte, dass etwas anders war als bisher: ich hörte unser Pferd nicht mehr husten. Auch meine Eltern, die gleich neben dem Pferdestall wohnen, bestätigten, dass sie keinerlei Hustengeräusche mehr vernahmen. Konnte es tatsächlich sein, dass der Husten weg war? Ja! Monatelanges, hartnäckiges Füttern von Artemisia ließ den Husten bei den Wurzeln packen und ausreißen. Zehn Jahre lang konnten alle Maßnahmen - und derer gab es unzählige! - nur zeitweise Erleichterung bringen und dann kommt eine Pflanze mit so einem bescheidenen Namen und einer so mächtigen Wirkung und heilt, was in einer Dekade nichts geschafft hat. 
Kleine Fußnote: die Hündin meiner Freundin litt an den Folgen einer Erkältung und der Resthusten wollte nicht weichen. Artemisia auf Globuli in der D3 schaffte auch diesen Husten :-)
Für mehr Informationen zu Artemisia annua gibt es hier Einiges nachzulesen: Artemisia annua. 
Nachtrag 02/04/2022: 
Unser Pferd ist noch immer hustenfrei, obwohl es seit drei Monaten kein Artemisia mehr bekommt.
Our beloved horse coughed, when it was hot outside, and we thought it might be ozone near the ground. Or maybe some plants in the field. Then fall came and with it cool days and it was still coughing. So maybe it was the cold. Or wet weather conditions. Or it was the bedding, which we changed constantly in order to find a reason for the coughing. We also changed and searched in the hay. No hay as perfect as possible brought any difference, not even the installation of large haynets. Our open stable is perfectly well ventilated without being drafty and our horses can decide any time, whether they want to be in the stable or outside. When it was rainy, this particular horse preferred being inside, which is why we could exclude a cold. Homeopathy, phytotherapy and flower essences brought short-term relief, but no matter what we undertook, the cough came back every time, sometimes more intense, sometimes less. And still we had no glue for the trigger. Shortly before I thought I would surrender, I tried one last thing. And a miracle happened.
During summer I had four big Artemisia plants, the annual wormwood, growing in big terracotta pots. As I picked four or five leaves everyday and chewed them, it came into my mind to give some leaves to our horse twice a day, too. In secrecy I hoped, that this might be the solution, but nothing happened first. Our horse kept coughing, sometimes more, sometimes less.
Nevertheless I kept feeding Artemisia leaves twice a day by habit and this habit became so automatically, that I forgot over our horse's cough. So he kept eating Artemisia leaves twice a day during the whole summer and autumn. Three weeks ago I realized, that there was something missing: I did not hear the coughing sounds any more. Even my parents, who live right next to the stable, confirmed, that the coughing sounds had gone. Was it possible for the cough to be gone completely? Yes! It took constant feeding of Artemisia over months to root out the cough. All uncountable measures over the last decade only brought short-term relief, whereas a plant with such a humble name and a powerful impact healed the impossible.
A little footnote: my friend's dog suffered from the consequences of a cold and a little cough persisted. Artemisia homeopathically in D3 let the cough fade away :-)
 Appendix 02/04/2022:
Our horse was not coughing since, although it has not been fed Artemisia since three months.